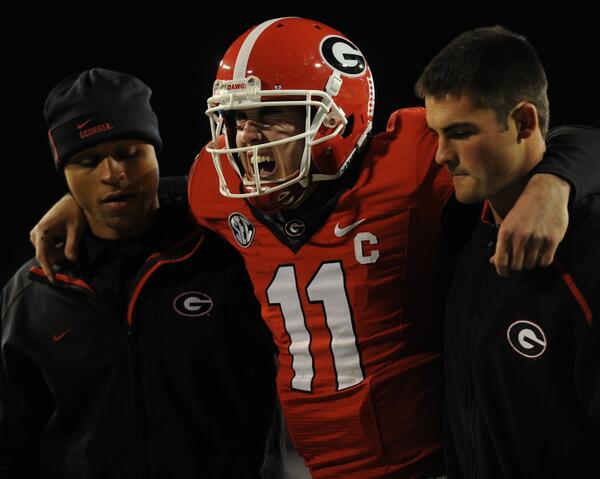 In retrospect, maybe we should have seen it coming.
It's not like the 2013 season hasn't already been a cruel bitch on the injury front.  And stuff like this was just inviting the football gods to intervene.
Still, something seems extraordinarily wrong about timing what may be a college career-ending injury on senior night.
But then, in the second quarter of that game, he suffered a left knee injury, after which the UGA medical staff sent him to St. Mary's Hospital for an MRI. Though the results of that test are pending, it would seem Murray's shot at playing another game as a Bulldog now appears to be serious doubt.

"He got hurt on the [28-yard] run," Bobo said. "He said he was fine and wanted to go. I tried to put Hutson [Mason] in, basically [Murray] wouldn't let me. He said I'm fine, I'm playing. I said I need to see you moving around out there and he moved around pretty good."

Handed a comfy 28-10 lead, backup quarterback Hutson Mason filled in for Murray and performed admirably, going 13-for-19 as a passer for 189 yards and a touchdown.

But even Mason admitted that his feelings on the entire situation were difficult to pinpoint: his happiness at the chance to play had been inevitably bogged down by the sadness of seeing a senior go down on senior night.

"It's like a fairy-tale gone wrong for Murray," Mason said. "You hate for something to end like that on senior night at home at the end of the season. You know, he's about to start training for the draft. It's very tough because I know how hard he works. I'll call him, see how he's doing. Right now I'm just waiting to hear what the injury is, will I be playing next week."

Indeed, the sight of the team's emotional leader – its Cal Ripken-esque worker at the quarterback position – painfully wincing all the way way into the locker was an unsettling sight for those present at Sanford Stadium. The exit cast an undeniable shadow on an otherwise joyful night for the UGA football team that became difficult for even head coach Mark Richt to shake off.

"It's just sickening. I really had a hard time enjoying the rest of the game," Richt said. "It just was hard to have a lot of fun. I'm glad we won and I'm glad we played the way we did but it's just a crummy feeling right now when you think about what Aaron's going through."
I suppose it could have been crueler.  Murray did get his fourth 3,000 passing yardage season before he was lost for the night.  And Mason certainly stepped in and played credibly in relief.  But you can't help but feel that Aaron Murray's deserved better than what this season's doled out to him.
***********************************************************************
UPDATE:  He's done at Georgia.
Hope this doesn't negatively impact his pro chances much.  He's a tough kid who's overcome serious injury before, so he's got that going for him.