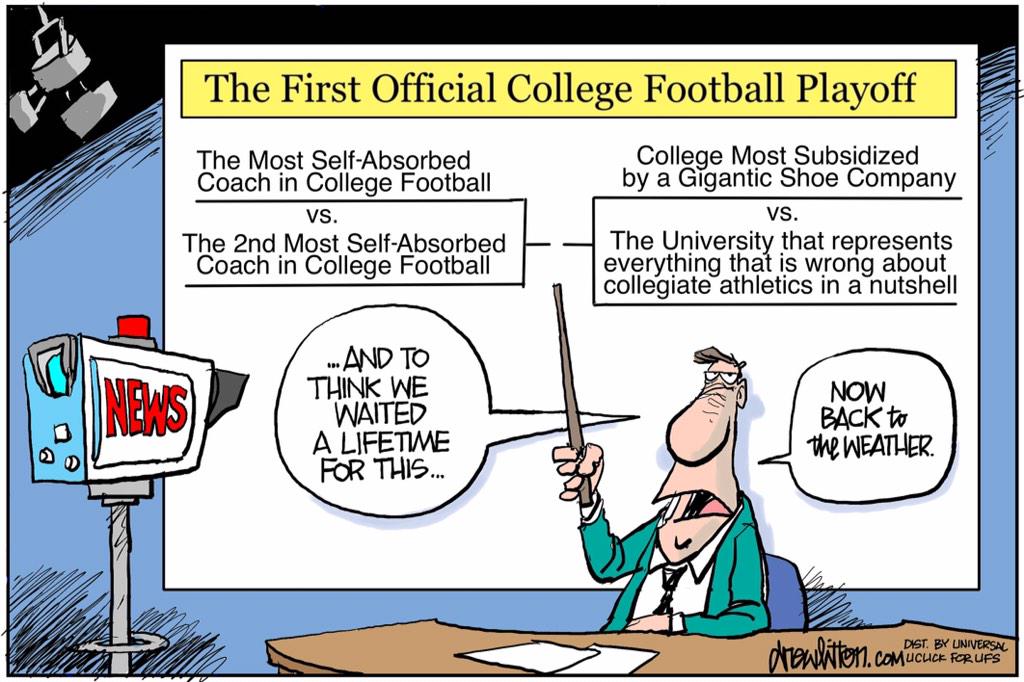 One person's self-absorbed is another's job focus.  (h/t Ausdawg85)
McCarney believes the stress level in coaching has risen because of the exorbitant salaries coaches are getting and the vast outlets fans have to voice their opinions. According to USA Today, 51 of 128 FBS coaches make at least $2 million this year. In 2006, there were 10 $2 million coaches.

"It's self-imposed, and obviously you want to win and want to be successful, no doubt, knowing that the world watches everything you do now," Mc-Carney said. "Who are we kidding? Not everybody thinks he can be a banker or a Realtor or a doctor or a lawyer, but everybody thinks they can coach. Everybody in the stands does."

Unable to shut off his brain, Navy's Ken Niumatalolo, 49, says he struggles to fall asleep.

"You're constantly thinking of things at night," said Niumatalolo, who will take Navy to a bowl game for the seventh time in his eight seasons. "How can you recruit better? What are some red-zone things we can do better? Our facilities aren't good enough. What sports drinks should we be drinking? There's a plethora of things that eat at you."
On the other hand, there's something to be said for a healthy perspective.
Stress is all relative, says Virginia's Mike London, a former Richmond police officer who once had a gun pointed at his face by a man who had robbed a store. Had the gun gone off as the robber intended, London said, he would likely be dead. Comparatively, calling a play on third-and-7 is relaxing.

"When I say relative pressure, it is just that," said London, 54. "One is a finality, the other you get to live to see another day."
Or you could simply revel in being an asshole.
Of course, winning remains the biggest antidote to stress. As Spurrier said, there really wasn't much stress during his dozen years at Florida.

"Not only were we winning, we'd win big nine of 12 games every year," he said. "So many games, we clobbered the other guy. It'd be the fourth quarter. We'd empty the bench, everybody would be laughing and giggling, and everybody got to play. We've even played our scout team…"
More stress for the OBC these days, though.
Spurrier joked that he slept a solid seven hours two nights after South Carolina's regular-season finale, the first time he'd slept that much in about six weeks. He said a doctor has prescribed him medication to help him sleep and "help my mind slow down" during the season.
And he doesn't play golf during the season anymore.  The horror!