Daily Archives:
September 20, 2017
Far be it from me to suggest that Georgia's offensive coordinator is having a boffo year at the box office, but I will say that I think he's doing a better job than many of you give him credit for doing.  Mainly that's because he's still working his way around a couple of serious personnel shortcomings.  The offensive line is the most obvious one, but the true freshman quarterback is right behind them.
Don't get me wrong.  Fromm's done a great job keeping things together after being thrust prematurely into the starter's role.  But, in the immortal words of Dirty Harry, a man's gotta know his limitations, and it appears Chaney does.
If you're looking for some examples of that, take a look at this Ian Boyd post.  Boyd nicely summarizes what Chaney faces in structuring a game plan with his current personnel in this paragraph:
The Georgia staff has two key areas to resolve with Fromm at the helm against better opponents. The first is easing pressure off the run game so that opponents don't load the box and take away the Nick Chubb/Sonny Michel tandem. The other is easing the pressure off a freshman QB who's not yet ready to carry the weight of the team.
A lot of Chaney's difficulties stem from that, while Fromm does an excellent job with his pre-snap reads, he's not experienced enough to deal with defensive adjustments after he makes that initial determination.  Sometimes, as we saw against Notre Dame, that leads to trouble.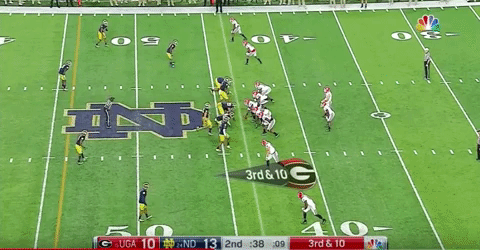 As you watch that, keep an eye on the running back.  A more experienced quarterback would have gladly settled for dumping off the ball for an easy completion there.
Speaking of pre-snap reads, those are even easier for Fromm to handle when he's making them from the shotgun or pistol rather than under center.  Given his background and experience, that's hardly surprising.  Unfortunately, that can make for predictable playcalling.
Looking at last week's game against Samford, Georgia broke away from at least one tendency it had the game prior against Notre Dame. Georgia increased its plays from under center with its first-team offense. In total, the Bulldogs ran 21 plays under center compared to 30 plays in the shotgun against Samford.

While Smart said switching between shotgun and from under center is "overrated" when it comes to analysis, it does play a part in what the opposition is trying to find out.

"They can look at those things, see it, try to get tendencies off it," Smart said. "I think every coach in America is trying to break his tendencies."

But the reason for noting the number of plays under center and out of the shotgun in the Samford game is important for one particular reason. Of the 21 plays under center, quarterback Jake Fromm threw from this spot zero times.

Fromm received only one passing call from under center against Notre Dame and he was sacked on the play.

The tendency here is that Fromm isn't going to throw the ball when Georgia is under center.
All you can do is all you can do, obviously, and, to be fair, Georgia was going to run the ball down Samford's throat no matter what formation in which it lined up.  Still, with an opponent like Mississippi State, which showed last week it does an excellent job with its game prep, that's got to be a major concern.  Maybe Chaney deserves to be cut a little more slack than he gets.