If you aren't that on top of Notre Dame's roster, at least outside of Ian Book, here are a few things I've dug up for your attention.
First, from PFF: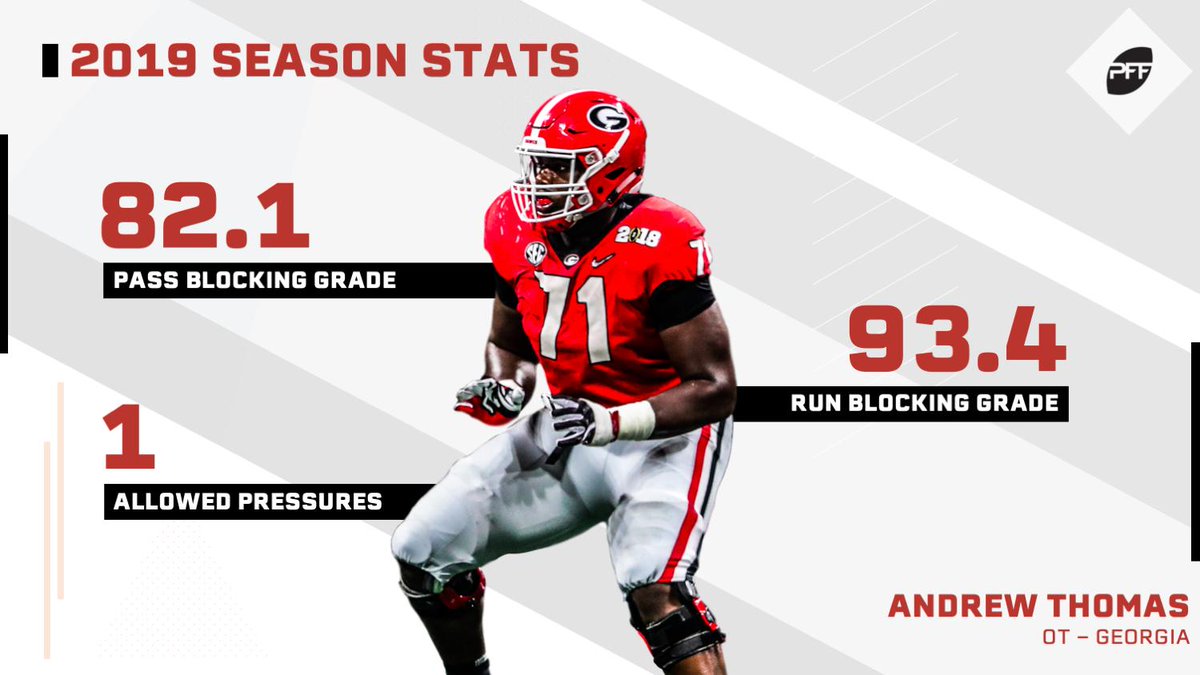 Georgia LT Andrew Thomas vs. Notre Dame's Khalid Kareem and Julian Okwara

When Notre Dame heads down to Georgia, it will be the largest collection of draftable talent facing off in any game we've seen yet this season. The marquee matchup will be right along the line of scrimmage. Both Andrew Thomas and Julian Okwara look very likely to be first-round selections come next April, checking in at 10th and 17th on the PFF draft board, respectively. Kareem is more of a Day 2 guy, but that's still a great litmus test for both him and Thomas. Okwara is one of the best players in the nation at converting speed-to-power with a prodigious combo of length and burst. Kareem is more of pure power player and even played defensive tackle early in his Notre Dame career. Thomas is currently the highest-graded tackle in the country and won't face a better edge duo all season, and the Notre Dame duo won't face a better tackle. This is tape scouts will be coming back to frequently next spring.
Notre Dame's defensive front may be a little soft in the middle, but it's got real talent on the outside.  I'm not so much concerned about how Thomas handles whoever is lined up on his side as I am at the other tackle and, perhaps more significantly, how the interior of Georgia's line — I'm looking at you, Trey Hill — handles the inevitable stunts and twists I expect the Irish to utilize to try to get at Fromm.
Here's another key matchup.
Notre Dame WR Chase Claypool vs. Georgia Secondary

The Georgia secondary is loaded with draftable talent. The safeties J.R. Reed and Richard LeCounte are the headliners after grading out exceptionally in 2018, but redshirt sophomore cornerback Eric Stokes could make his way up boards here soon as well. They'll face a man who looks like an NFL wideout at 6-4, 230 pounds with good speed but has yet to produce like one until this season. Claypool was a basketball standout in high school yet that hasn't translated as well in contested situations as we may have liked going 6-for-14 on those last season. The key here will be the play of both Claypool and Stokes at the line of scrimmage. Bigger receivers often lack the flexibility and quick to deal with good press corners, and Stokes has played the eighth-most snaps in press of any corner in the nation (64).
Well, remember that Georgia tends not to flip its cornerbacks to follow particular receivers, so it's unlikely that Claypool finds himself matched up against Stokes all day.  In fact, I would expect Notre Dame to do what it can to exploit Claypool's talent and size against the corner on the other side, who will either be a Tyson Campbell who is nursing an ankle injury, or Daniel and/or Stevenson.  In any event, you have to think Smart and Lanning are going to have to provide some safety help if Claypool proves to be too much for one DB to handle.
Jake Rowe has some more player details here.  I will say that I have a lot of respect for Ian Book's game; he's one of those scrappy running quarterbacks who seem to give Georgia defenses plenty of problems over the years.  Containment is going to be a huge deal for the defense tomorrow night.  I hope I'm not pulling out my hair watching that breakdown constantly.
Book's completion percentage hasn't been as great as I expect Brian Kelly would like it to be, but he hasn't thrown an interception in Notre Dame's two games and he absolutely ripped New Mexico's pass defense apart.  He's also averaging better than 5.5 yards per rush and has two running TDs to his credit.  A real threat, in other words.
If you want more, Rowe also has a unit group comparison posted here.