Via UGASports' Film Don't Lie, I've got a couple of clips and commentary to share.
First, you may have seen this the other day, but there's something about it that bears repeating.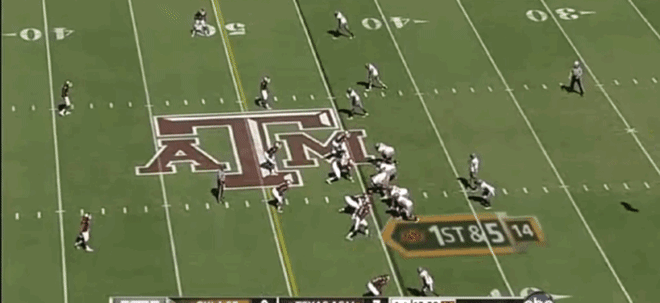 Here's what Dayne Young says about it:
Expect to see an active backfield pre-snap from the Bulldogs. Motion men can dictate the momentum defenders have when the ball is snapped. Here, the motioned receiver goes one way while a running back screen develops the other way. If Georgia's offensive line plays a bit smaller and promotes agility, this kind of action is possible.  [Emphasis added.]

It's a well designed play that gets the back in space, but it gets stuffed because the lineman isn't quick enough to block the defender, who winds up getting a clean shot at the receiver to blow up the play.  Does Georgia have the offensive linemen to make that play go?
Brent Collins' comment about the clip is a little surprising.
While we don't have the data for the Oklahoma State or Southern Miss years on the amount of shift/motioning, Monken's offenses in Tampa Bay used shifts or motion on 35 to 38 percent of plays, below the NFL average and nowhere near the 79 percent that topped the league with Kyle Shanahan's Super Bowl-bound offense in San Francisco. In 2019, Georgia's offense used a shift/motion component on 50.5 percent of its snaps.
Coley ran more motion last season than Monken did the last time he called plays?  Interesting.
And here's the second clip and commentary: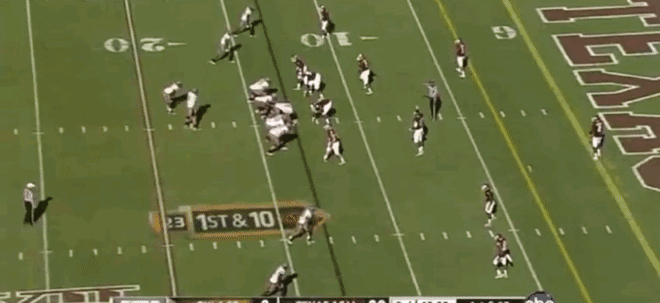 Dayne: The most successful running plays under Monken's offense are very decisive. The runner spends very little time maneuvering laterally. It's all getting to the hole faster than it can be stuffed.

Brent: The essence and birth of the spread offense was actually designed (by Rich Rodriquez at Glenville State University, before he went to Tulane) to help the running game. At PFF, we have shown that field location (between the 20s) and number of defenders in the box predict rushing success more so than the ability of the running back. In 2019, Georgia was in the top half of the FBS (44th) in terms of number of rushing plays with at least eight defenders in the box.
Hell, I'm surprised that last stat he cites isn't even higher.  But I digress.  The big deal here is that for Monken's running philosophy to succeed, it's going to take a lot of scheming to convince teams to defend Georgia's offense in a very different manner than they've been accustomed to doing in the past couple of seasons.  Is Georgia really going to do something to scheme defenders out of the box?