I would have loved to have been a fly on the wall watching Smart's expression when Monken explained this to him:
Georgia went to a bit of a different look near the goal line on Saturday night against Auburn as defensive linemen Jalen Carter and Jordan Davis entered the game on offense as blockers. The Bulldogs were able to score both times that Carter and Davis entered the game, and afterwards, Kirby Smart gave credit to new offensive coordinator Todd Monken for the idea.

"(Todd) Monken talked about the inability to travel a lot of guys in the NFL and how they use defensive players for those packages," Smart said following the 27-6 win on Saturday. "We certainly think that Jordan is a weapon because of his athleticism and his size, and Jalen did a lot of that stuff in high school. He's a really talented guy who has played some fullback and things. We've had it in for awhile and thought we would use it when we needed to. I thought Monken and the offensive staff did a good job developing that package."
It was probably something like this…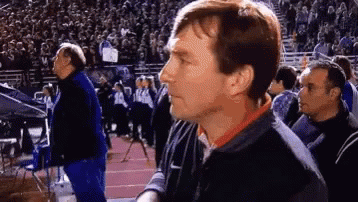 … followed by a shit eating grin.