Thomas Goldkamp, bless his heart, is so wedded to this whole "recruiting vs. development" faux debate concerning Smart and Mullen…
Perhaps it's just overly exaggerated narrative, but the general consensus in football fan circles tends to be that Smart is a better recruiter than Mullen, while Mullen is a better developer of talent than Smart.

Is there any merit to that?
… that he's just dying to try to work this 247Sports Development Rating metric into the discussion.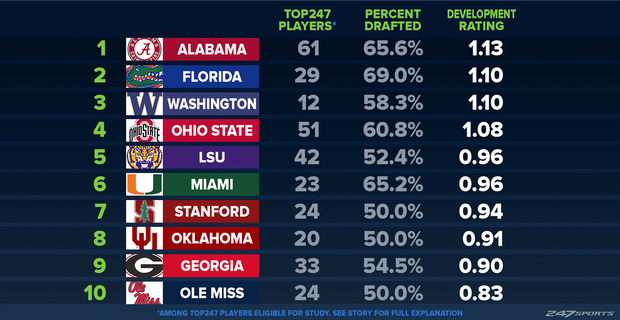 There's one small catch:  the ratings cover the 2012-16 classes.  Even for Goldkamp, that's a little awkward.
So Mullen is only just starting to go through seasons where the vast majority of the roster is made up of guys he recruited. Smart is a little further past that, to where some of his recruits begin to show up in the 247Sports Development Rating for 2021, a project the site has been cranking out each year in an attempt to quantify player development.

… Now, note that this isn't any sort of a direct reflection on Dan Mullen just yet. While he had some to do with it, a little less than half of the prospects that played into this ranking actually played under Mullen and had the chance to develop under his staff.
"Played under Mullen" is, as we like to say here, doing a shit ton of heavy lifting.  The period Goldkamp is referring to is when Mullen was Florida's offensive coordinator.  How he was involved with the development of Gator defensive players at the time is, at best, murky, and, more likely, fictional.
But you've got to work with the material you have, right?