Bud Elliott is back with this year's edition of his Blue-Chip Ratio.  A reminder of what the BCR measures:
Put simply, to win the national championship, college football teams need to sign more four- and five-star recruits (AKA "Blue Chips") than two- and three-star players over the previous four recruiting classes.

This has been true basically as far back as modern internet recruiting rankings have existed.

… All scholarship signees count. Transfers and walk-ons do not.
And why it matters:
The requirement to stack talent on top of talent makes sense when considering the violence of the sport of football. Even those teams who stay relatively healthy need depth to survive the season. Teams who sign elite class after elite class have greater competition in practice, and greater quality of depth.

Recruiting rankings are not perfect. But they are damn good, especially in the aggregate. Four- and five-star recruits are about 10 times more likely to be drafted in the first round than their two- and three-star counterparts. And five-stars are about 33 times more likely to be All-Americans as two-stars are. For every two-star who becomes a big success, there are multiples who will be going pro in something other than sports.

That is not to say that development does not matter. It certainly does. But nobody wins a national title by player development in lieu of elite recruiting. Plenty of coaches who are regarded as elite have never sniffed winning it all because they can't get enough talent. On the other hand, there are examples of coaches who are not regarded as premier head men who have won it all thanks to elite recruits. Not to lump them into the same category, but nobody ever accused Gene Chizik, Les Miles, or Mack Brown of being tactical masterminds.

Coaching matters. But recruiting is by far the most important piece when it comes to separating the good from the great. After all, coaches only get 20 hours weekly with their players by NCAA rule.
The BCR isn't a guarantee of a national championship.  Rather, it's more a matter of if your team isn't in the top fifteen or so, it's not going to win one.
Here's how 2021 looks.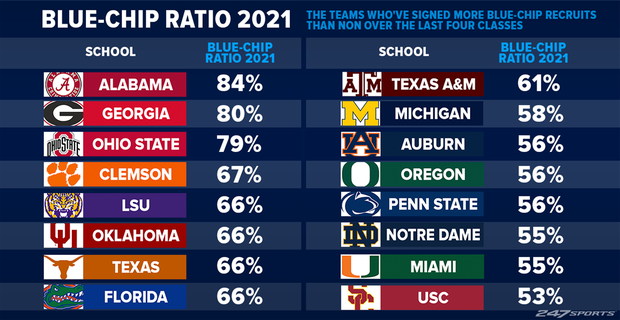 Alabama's percentage is the highest Elliott's ever calculated, which ought to give you an idea how good Georgia's number is.  To give you an idea of how those percentages play out in terms of roster numbers, take a look at this:
The spread between Georgia and Florida is fourteen points.  That's about twelve players.  I don't care how much the Portal Master™ portals, he ain't making that gap up, especially when Kirby's doing at least as good a job mining the transfer market.  Now, sure, there will be years when the stars align properly, as they did in 2020, and Florida will have the upper hand, but over time, this isn't a winning hand for Dan Mullen.
What to do, then?  Well, if you're a Florida fan who realizes his coach ain't gonna beat 'em straight up, it's the right time to handicap the others, all in the name of the greater good.
Now we have to be really honest with ourselves. Are we okay with Alabama and Clemson winning a 12-team tournament every year, or do we actually want a tournament that is more wide-open?

If we want the latter, it isn't enough to just expand the field. Instead, I think that the NCAA needs to institute a salary cap on football recruiting.

What if Clemson had to decide between going after a big-time recruit in Florida or building a football facility with a slide? What if Dan Mullen could actually sell his winning record rather than having to sell the facilities that are now under construction?

Where do you set it? I'm sure there are mathematical models that could do a better job than just ballparking, but $1.5 million annually seems reasonable, annexed to some percentage of television deals. If you wanted, you could even have it be a 4-year rolling average so a team could spend $3 million one year but then would have a greatly reduced budget the next.

Immediately the giant advantage that Georgia, Alabama, Clemson, Texas A&M and Texas enjoy goes away, or is at least severely limited. In fact, this entire proposal only limits 6 total programs if $1.5 million is the cap number.
Bless his heart.  Once thing he neatly skips over is how recruiting budgets didn't mean shit last year in the wake of the COVID shut down.  Remind me how Alabama, Georgia and Florida finished with a level spending field.
Yes, there's your Daily Gator:  better to have the NCAA commit another antitrust violation than to force Dan Mullen to end his vacation on the lake sooner to work recruiting a little harder.